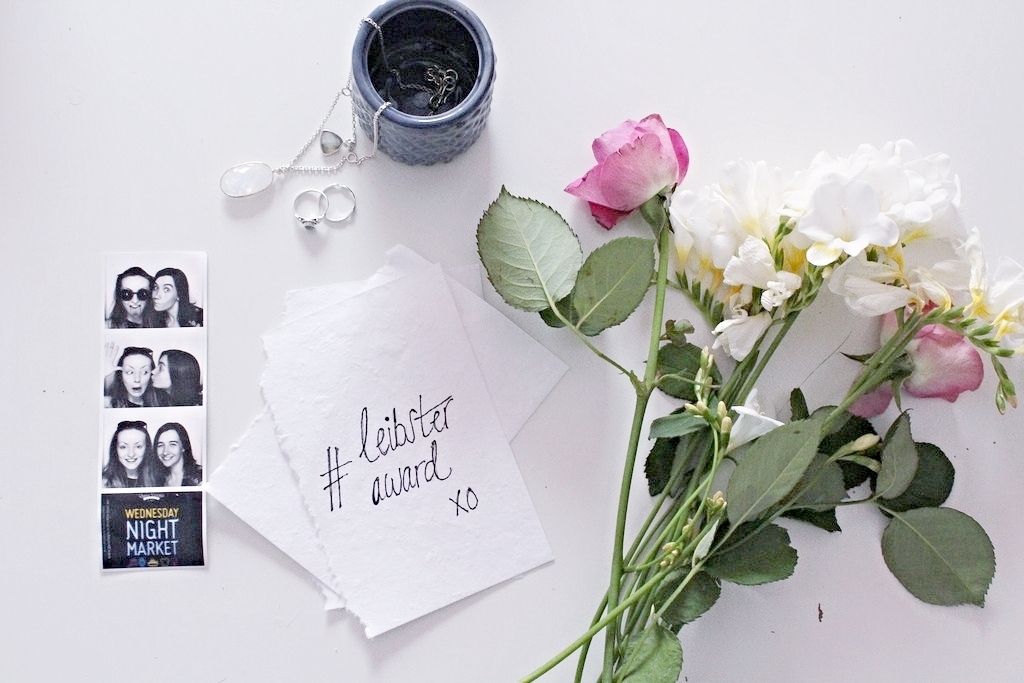 Oh hey you lovely lot! Hope you enjoyed my last post on here and if you're keeping tabs on my instagram that amazing Boho top will be up in an outfit post very soon! Now, for something a little different.
I'm sure some of you will have heard of it, but if you haven't, the Leibster Award is a way of bloggers nominatating eachother, in a bid to get to know other new bloggers, which is so great! The sea of bloggers is vast and this makes is so much easier, and its interesting getting to learn that something new about the person behind the blog!


Once nominated, you must answer questions that the person who has nominated you suggests, and continue the process (rules below). Thank you to my lovely friend Hollyanne via her blog
Clothed in Strength
for nominating me, here are the questions she asked me:
What are your hopes for your blog?
My hopes for my blog are massive. It is already become a space for me to be totally honest, share my life, style and tips comfortably, but my hope is that it becomes a space where other women can come and see my passion for personal style and using fashion in a possitive way, and seeing that my entire lifestyle encompasses that goal.


What is your biggest dream?
Oooh thats a tough one! How can you choose? I dream of a world where all women love their bodies, and feel comfortable to express their style how they'd like, I dream of women feeling free to love themselves - we all need a little bit more of that.


Favourite item of clothing in your closet?
Oh again a real toughie - I have so many! Okay, I would have to say my favourite item in my closet is my black skinny jeans purely because I wear them to death but my favourite items constantly change. I love finding new favourites in my wardrobe!


What's your make-up/skin care essential?
Well, since my skin is so sensitive I can really only stick to the same kind of products, but my absolute essential makeup wise, has to be my Mac Pro-long Wear concealer. It's coverage is amazing, and my tip would always be to conceal under makeup but to also use it almost like a brightener (I choose to buy one of the lightest shades). Put it on top of foundation and it completely wakes those bags up, and gives a lovely brightening effect!


Who is your favourite new blogger?
Yikes! I have so many. Most would be style (both clothes and home style) blogs and I love Audrey Leighton from
Be Frassy
and Kate from
Kate La Vie
. But someone I have only discovered recently is Janice at her blog
Gathered Threads
. I love her blog for her pure love of simplicity and all things essential and natural in life. She has so many home-made tips and dishes,
and
makes living on a farm look utterly adilic! Go check her out!
Which company/brand would you most like to work with as a blogger?
Well, since I adore styling I would love to collaborate withlots of well known designers but since that is well off the cards, I do have this little dream and I'd really love to colaborate with a company that has a real message of beauty behind it, and stands for something close to my heart like Aerie Real and their campaign to show people that real women are sexy. Or The Giving Keys with their movement to help the homeless.


What was the hardest thing for you when you started your blog?
There are lots of bumps along the way but I think one of the hardest things I struggled with was that it is so easy to come accross all of these really successful bloggers with a massive network of followers and in turn, a body of companies behind them. The start is slow and it can become a slog but its so important to remember that your blog is different because it is you behind it, don't compare but enjoy the journey of blogging. You might not jump straight to the top, in fact its most likely that you won't and that's what makes it hard work but if you stick to it, it can be so rewarding.


Favourite inspirational woman?
Oh goodness, I suppose I could choose lots of women whose journeys have inspired me, and there are so many. But if I had to choose one, I'd choose my mum. She does so much and gets so little time to herself that I've only really started to appreciate her wonder-woman-ness as I have gotten older. Sometimes I wonder how on earth she does it, but it shows me what kind of a mother I'd like to be one day.


What's your most embarrasing moment as a blogger?
I wouldn't really say I have one. Nothing about my blog or surrounding my blog has necessarily embarrased me, but I would say it's a little cringe-worthy when your fiance starts listing habbits that you have aquired as a blogger: i.e. I ask him to take pictures for my instagram A LOT, I always take pictures of food that looks pretty, and I am obsessed with cushions, copper and candles. Typical.


Who is your biggest supporter?
Sorry to mention him again but Frankie. He loves me, and that's even when he is taking pictures of my outfit and risking looking like a tourist in the city he was born in and putting up with my blogging habbits and me habbits. He gets me, and he gets how important my blog space is to me.


If you could live in any country and do anything you like - where would you live and what would you do?
Well, I love Belfast for it's culture and the fact that it is small. Frankie and I have always talked about moving somewhere a little warmer but with all four seasons - maybe America one day? Who knows. But ideally i'd currently be on a beach , sipping on a pink cocktail, and watching the sunset. I'd also love to try paragliding so thats on Frankie and I's go crazy list.


Now its my turn to nominate some blogs of my own! It was tough to choose from all those blogs I follow, but I wanted to choose new blogs that I have recently became aware of, who I believe are seriously going places with their blog spaces (little unintentional rhyme there). So here they are:
________________________________
_________________________________

So girls, the rules:
1. Thank the blogger that nominated you through your blog or social media
2. Answer the questions by the blog that nominated you
3. Nominate 5-11 other bloggers (with under 1,000 followers on instagram)
4. Create 11 new questions for the nominees to answer
5. Notify all nominees via social media


..and my questions for you:
Why did you start blogging in the first place?
What is your mission for your blog?
Who is your biggest inspiration?
Where do you see your blog in the future?
If you were given a free ticket to any place right now, where would you travel and why?
What was the last blog post you read about, and who was it by?
If you had to give one, what would you best skincare/beauty tip be?
What is your most annoying habit?
What is at the top of your current "me" shopping wishlist and why?
What would you say your mantra/moto for life is ?
What is the last song that was played on your iPod?


So there you have it! Good luck! So excited to see all of your posts and read all of your answers to the questions I gave you ladies, I tried to keep some fun but allow you to open yourself up to some questions you might not have thought of before!


Much love, Ems xo