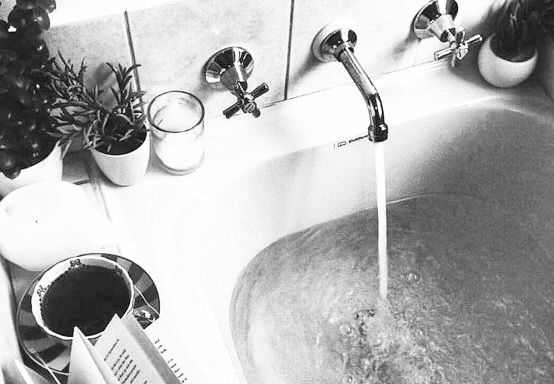 Hey ladies, phew! A very long week has been had. As I've mentioned before, I work fulltime for Guess UK in their Belfast store, as key holder and jewellery and watches ambassador and manager but as much as I adore my job, it does come with its strains - I'm sure anyone who works in retail will know my vibe. Wedding planning has become tough too, I feel like I have got so much done yet there is so much I still need to do! Any bride-to-be's feel me? This week has just been so draining for me, the days felt almost endless at times. I'm sure lots of you will be able to relate!
If you were to ask my friends, and family (mainly my poor fiancé Frankie) to pin-point
one
person who deals with stress poorly, It'd 100% be me. Thus, after a year of lots of stressful moments (do
not
say wedding prep/organising looks easy until you've tried it!), rapidly followed by a glass of white and a steaming bubble bath, I figured I should at least try to improve my ability to cope with stress!
So, how to get over the week without killing anyone?
Make time for yourself
Go somewhere quiet, shut your phone off, and just be with yourself. Sometimes, all I need is to sit on my bed, close the door and clear my head. It just seems to help. If you're really busy and think you wouldn't have time for this, you really just have to prioritise yourself and make it. Maybe you are running lots of errands for your business or just a busy stay at home mum, you need to make time for a little rest, even if it's just 10 mins for a breather in your car between runs! You'll realise how much you needed it by the end of the day.

Walk somewhere
When I'm at my parents house I usually just hop on a bus, but when I'm at frankies I'm able to walk for 10/15 mins and get into work which really wakes me up and prepares me for the day ahead. If you are able, walking to work or after, or just for a breather in the week will really refresh you. Oh, the power of Vitamin D and fresh air in your lungs!

Bubble bath (duuh)
It sounds so cliche but a bubble bath is one of the worlds most relaxing, stress relieving activities I can think of. Frankie is an absolute gem, before I say a word he knows I'm stressed and will run me a surprise bath complete with a Lush bath bomb. He knows me too well. Whilst my phone is sitting in the other room (side note.. do not take your phone with you!), I am left to utter peace, quiet and lots of pretty smells. Plus, a nice cold glass of white is a great addition! Mmmm, bliss.
Treat yo' self
Go on, get yourself a treat. You've worked hard, felt stressed, pushed yourself. Sometimes just giving yourself a well done treat can make it at least seem worth the stress! This week has been tough for me but I treated myself with a new pair of shoes to wear to work which was lovely (queue outfit post!). Obviously I can't do that every time I feel stressed, because I'd definitely have no money left, but it pushed me forward which is sometimes just what you need.
Text mum
Horrible day? I text my mum. It's not often I have a week like this, but when I do, I'll text her and just offload how I'm feeling, to pray over my day. For some of you it might just be someone you love, or even dad. I'll often text Frankie but sometimes, it's nice to just give your mum a little text so that you know, that someone else knows how you're feeling.

Well.. Thats how I managed to get through this week! I'm sure some of you can relate so some pointers, if not all. Look after yourself and have a lovely week. Don't let stress overwhelm you, take it one breath at time, It'll pass.

"DONT STRESS, DO YOUR BEST, FORGET THE REST"

Until next time my lovelies,
Em xo