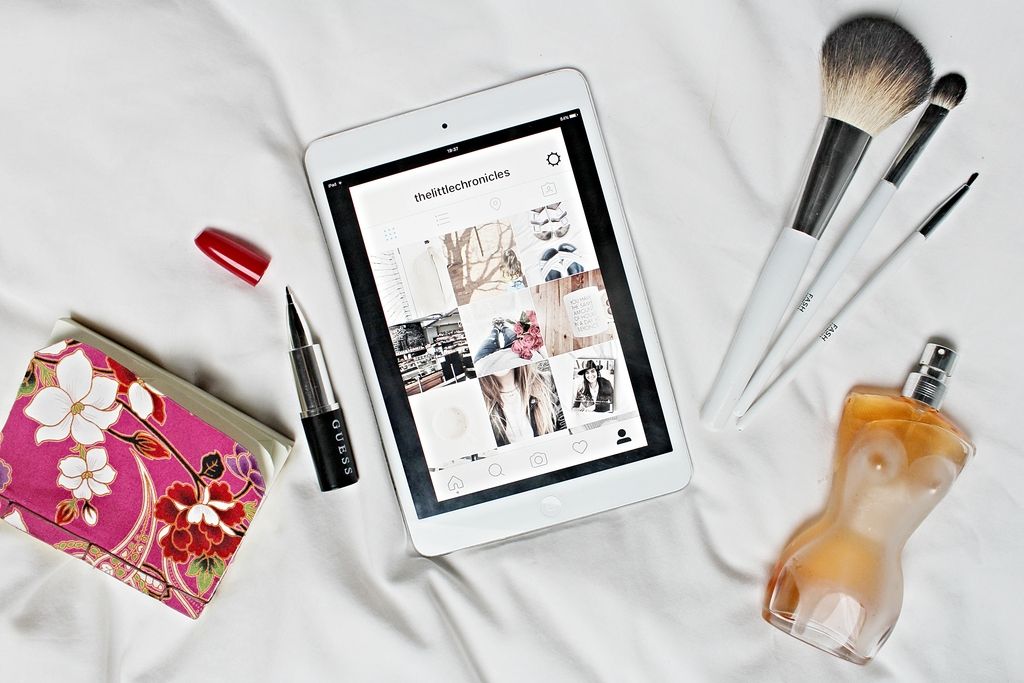 #behindthefeed is here! I hope you guys have been keeping up to date with all of the various Instagram posts, and blog posts being put out there - word is spreading so if you are a blogger, writer or just instagrammer, and you get a chance, I really urge you to take the time to do a #behindthefeed post for yourself and your readers. It's been a real eye opener for me just thinking about it. For a quick brief on what it is before you read further, click
here*
.

When it comes to my Instagram feed there is a lot more that goes on behind the photo, than what meets the eye. For just current happnings pictures, like where Frankie and I are out for lunch or a new store I've discovered I just edit the saturation, sharpen, depth and brightness (no filter!!) and then just post them, but even in those pictures there are things you just don't necessarily see in the background.

TRUTH.

In fashion/styled images where I flatlay items on my duvet - which really is a big Instagram thing at the moment! If you're not sure what this is it's basically where bloggers or instagrammers lay items flat in an inspirational way, sort of like a mood board. Take the image above for instance, my bedroom was a tip, and to get this image I had to stand on my bed, leaning forward to balance and keep a straight position. Can you picture that? I mean, you'd never know that from seeing this photo. The layout may look beautifully messy too, but trust me it took me forever to get them to stay like this. It sort of reminds me of the dreaded messy bun - takes absolutely forever to get right but looks effortless to everyone else. There are many flaylay queens about the instagramasphere, and they do give me real inspiration to creating the vital images that go into my blog and therefore my Instagram. But you can guarantee that their lives aren't perfect like their images may seem.

My life features an imperfect, beautiful chaos and I'm ok with that. My Instagram is just filled with lots of images, a portrayal of my life. And yes, I of course am as real as possible in my photos, as you have to be, but as with all photos, you can't see or feel emotions, and you can't see what's going on behind the camera.

If you look at my Instagram, you might see the image of me in a pair of distressed jeans, heels and a bunch of red roses? Well, I actually just snapped the picture in my parents garden because they got a new pathway and it looked so fresh! I'd actually worn my converse all day but after having a morning trying on all my shoes (procrastination at its best) I thought ooh I like, so got a shot! I actually wore the outfit the week after posting the pic!

You also won't know from my instagram feed that in the black and white photo of me and my beautiful sister Hannah (the youngest but growing up far too fast and goergeous for my liking!) we had actually had a massive argument a couple of hours before, about her taking my makeup. We of course made up and we were having a blast in the evening, but you'd never know at all.

The truth is, why should we allow ourselves to so eagerly idolise these particular Instagram feeds we adore, these instagraming geneuses, that yes produce amazing images - and blogs for that matter - so much so that we seek their lives because it just seems so perfect. Yet we build all of this thought and comparison, off of one group of small images that don't even portray half of their life.

Own your pictures, and if one happens to come up and it's not perfect? But you really love the picture, just post it! Love Instagram, use it well and take advantage of every bit of juicy inspiration you can, but don't let yourself get so wrapped up in these other feeds that you start to pick holes in your own life. That's just not healthy.

A photo may say a lot of things, but it most certainly doesn't say it all.

Tons of love,
Em xo