To start with.. Happy Fathers day to all those daddies out there. I know I love mine dearly and I couldn't thank him enough for being there for me and supporting me through out the years in various ways. He is kind, generous and a faithful servant of God which I have aways deeply admired.

I'm sure you'll have seen from my Instagram, that my Dad and I took a van, and spent 4 days in Portsmouth a couple of weeks ago, to help clear out my late Grandma's house (his mum), and visit my Granny (mums mum.. confusing I know!) and fill the van with lots of furniture for the start of Frankie and I's married life. To fill you in, my parents are both from a place called Waterlooville, not too far from Portsmouth city where they met before they moved to Liverpool to bring my three sisters and I up.
So, after borrowing a friends van, Dad and I got up at the crack of dawn, drove 2 hrs to Dublin to hop on a 3 hour ferry journey to Portsmouth, to then drive a very long 8 hours to Waterlooville where we stayed with my Dads sister, lovely Aunty Jenny and family. His mum lived in a granny annex attached to the house, so we spent our entire first day clearing and cleaning the house, and packing various items I chose for Frankie and I. A lot of time was also spent rummaging through her hundreds of old photos and various memoirs, which definitely got a few tears jerking.
All together (adding the journey there and back) we drove a whopping 905 miles!
I feel utterly grateful for my families support and generosity to Frankie and I, and I know my Grandma would be so proud to know that I have some of her furniture in our first home. I was able to get lots of new kitchenware and utensils that were practically brand new which will really give us a kickstart as well as a great flat screen TV, stand and coffee table. I aim to attempt to do an upscaling project on the coffee table and potentially the tv stand so stay tuned for more of that!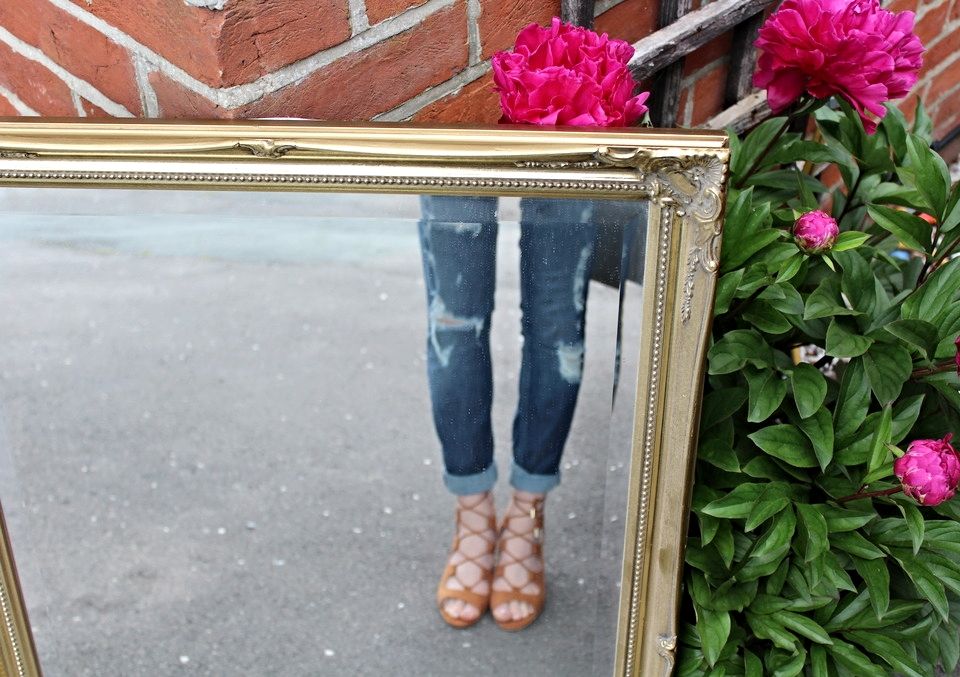 Among the items I chose from my Grandma's things, was this beautiful Gold frame mirror pictured above. I absolutely love the mix of old and new in interiors at the moment, and just know this piece will take pride of place at my dressing table. I know she'd love to know that I have it our new home.
The journey then took us another hour and a half's drive to my Granny's new home in a beautiful place called White Parish near Salisbury, where we stayed for the night. If you have never been, I urge you to venture to this part of England. It's quaint, pretty and the villages feature a gorgeous cottage with climbing roses, every corner you turn. Even the new build houses are stunning, they have this warm old/modern twist, I was going crazy as we drove into White Parish I loved it so much! I ended up picking up so much more from my Granny for Frankie and I that the van was filled to the brim! And I'm talking never used baking trays, hand whisks, serving plates, cake mixer and so much more. My favourite however, has got to be my Granny's set of very loved, but beautiful yellow ceramic pans. I can't wait for them to have pride of place in our kitchen!
And one of the best things about the entire trip? Was that I got to spend it with my Dad. Something we do extremely rarely is spend quality time as just the two of us, so I really enjoyed travelling hours on end, chugging along in the van, singing to Adele on the radio and making pit stops for McDonalds breaks.
Definitely a trip I'll remember for a very long time.
Until next time,
Em xo